[ Home ]
[ Old Trooper ]
[ New Trooper II ]
[ KC's Trooper II ]
[ Wales ]
[ Links ]
KC's Trooper II (DLX)

(Badged in Australia as: Holden Jackaroo,
and in Venezuela as Isuzu Caribe 442.)
All pictures 2003 &copy Erik-Jan Geniets
So my girlfriend has one too. This one is from 1988.
It is a SWB with a 2.6 L. petrol engine. The real 4 banger.
Built for the German market. Imported in the Netherlands on a later date.
Some rust on the right side of the coach. Everything else is in a mint condition.
It has a so called 'dutch yellow tax license'.
And so including a rear seat and rear side windows.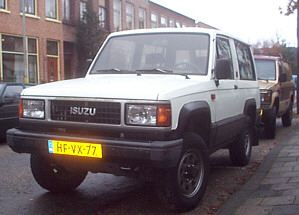 Automatic locking hubs in the front.
A previous owner mounted 16" rims.
The spare is original though.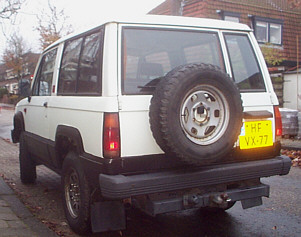 A German made tow hook. Looks very solid.
[ Home ]
[ Old Trooper ]
[ New Trooper II ]
[ KC's Trooper II ]
[ Wales ]
[ Links ]
All logo's and brands are registered Trade Marks ® (TM) of their respective owners.
"All photographs on this site are copyright protected"
Reproduction of the images on these pages without permission is strictly prohibited.
Violators risk legal prosecution.
Web development by Erik-Jan Geniets, Naarden-Vesting, The Netherlands.
Copyright &copy 2001 - 2004.