[ Home ]
[ Old Trooper ]
[ New Trooper II ]
[ KC's Trooper II ]
[ Wales ]
[ Links ]
My Trooper(s)
(Badged in Australia as: Holden Jackaroo,
and in Venezuela as Isuzu Caribe 442.)
This page is specially made for the readers of the isuzu@4x4wire.com mailing list.
and for our German friends who linked this page and their visitors off-course.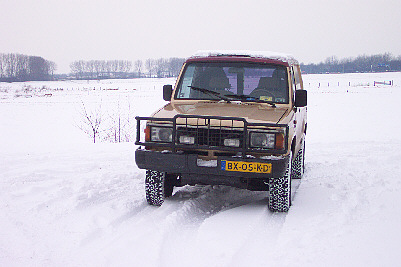 Trooper II, Winter 2005
Old !!! :My Old Trooper
New !!! :My New Trooper
Newest !!! :KC's Trooper II
Also on this site:
My Welsh Adventure with an Opel Frontera
Marketed in the U.S. as Isuzu Rodeo
Question :Roll-Over Angle
Those Troopers (except for KC's trooper) have a so called
"grey" tax license, which means there is no rear seat and
the rear side windows are removed.
So you pay less on road taxes but have more accidents.
We have a lot of strange and dangerous tax laws in the Netherlands.
Follow the links to go to the pictures.
Enjoy your stay.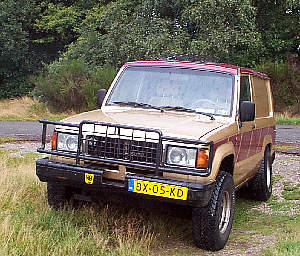 Trooper II

[ Home ] [ Old Trooper ] [ New Trooper II ] [ KC's Trooper II ] [ Wales ] [ Links ]

This page is hosted by :www.fotograaf.com

All logo's and brands are registered Trade Marks ® (TM) of their respective owners.
"All photographs on this site are copyright protected"
Reproduction of the images on these pages without permission is strictly prohibited.
Violators risk legal prosecution.
Photography and web development by Erik-Jan Geniets, Naarden-Vesting, The Netherlands.
Copyright &copy 1999, 2000, 2001, 2002, 2003, 2004, 2005.