[ Home ]
[ Old Trooper ]
[ New Trooper II ]
[ KC's Trooper II ]
[ Wales ]
[ Links ]
My New Trooper II

(Badged in Australia as: Holden Jackaroo,
and in Venezuela as Isuzu Caribe 442.)
All pictures 2001 &copy Erik-Jan Geniets
So I finally got a newer one. This one is from 1987.
It has hardly any rust. Compared to the other one which
had a broken frame at the point where the right
torsionbar was connected to it.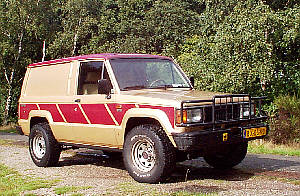 Isuzu Trooper Turbo Charged Diesel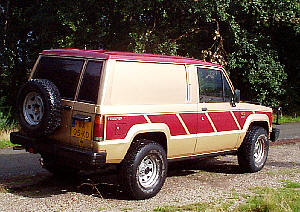 The engine is a C 223 with 5 speed transmission.
The engine is equiped with a K&N air filter.
It has an LSD (Limited Slip Differential) in the rear
and automatic locking hubs in the front.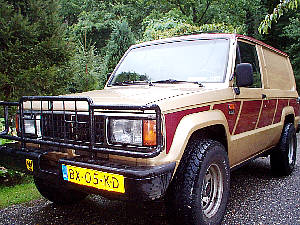 The bull-bar is mounted on top of the bumper.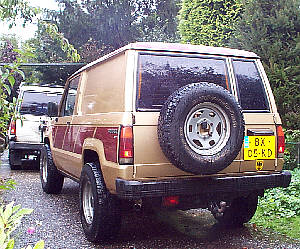 I took the wheels and tyres from the old one. )*
Looks pretty cool I guess.
(The spare is original Isuzu.
The others ones seem to came from a Toyota Landcruiser)
)* Finally replaced the original Isuzu wheels with BFGoodrich T/A's.
The big ones fitted nice on the old Isuzu but not on this one.
The new Trooper II seems to have a wider track.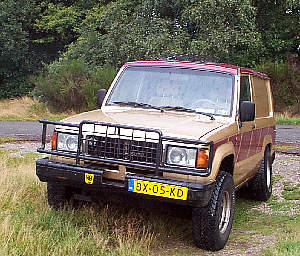 It is a pity the winch is gone.
Does anyone now which brand or type of winch was mounted here ?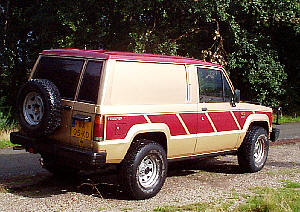 Anyone a suggestion about front shocks with additional coil springs ???
I really think the front is quite soft on suspension. Just like the old one.
Anyone tried to modify this? I'm not talking about replacing the torsion bars.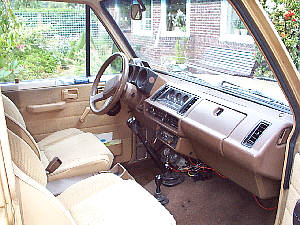 The dash looks similar to the old one but is different in most of the details.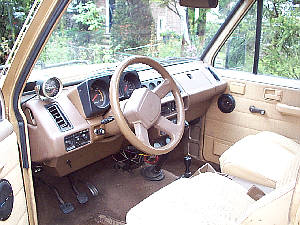 Left hand drive.
If anyone would like to see pictures from other details of
this Trooper, just ask and I will add them.
[ Home ]
[ Old Trooper ]
[ New Trooper II ]
[ KC's Trooper II ]
[ Wales ]
[ Links ]
All logo's and brands are registered Trade Marks ® (TM) of their respective owners.
"All photographs on this site are copyright protected"
Reproduction of the images on these pages without permission is strictly prohibited.
Violators risk legal prosecution.
Web development by Erik-Jan Geniets, Naarden-Vesting, The Netherlands.
Copyright &copy 2001 - 2004.